Radnorshire CAMRA news
The GOOD BEER GUIDE 2021.
Available from October 2020
In this edition, for the whole county of Radnorshire, we have 6 entries.

LETTER in the monthly CAMRA Newspaper "Whats Brewing"
SIGN UP FOR NEW GROUP FOR THE DEAF.
I am trying to start a CAMRA deaf group so we can meet at beer festivals and have beery talk in sign language or whatever suits us.
I only started training in sign language four years ago so forming this group would be good practice for me.
The other aim of the group is to try and introduce real ale to the deaf community as most are accustomed to drinking bland fizz at their local deaf club or meet up.
If you are interested and know anyone with a hearing problem and want to be one of the first pioneers, please email me at moc.loa@luapelalaer or text Paul Colin on 07454 706160.
Paul Colin
Newark, Notts.

Do you know anyone who would like to join this deaf group ?


BEER & CIDER FESTS and OTHER EVENTS.
ARVON ALE HOUSE, Llandrindod Wells.
Folk music is on the SECOND and FORTH Sunday each month from 4-00pm.with extra days for special events.
There will also be a different type of music on the third Sunday of each month.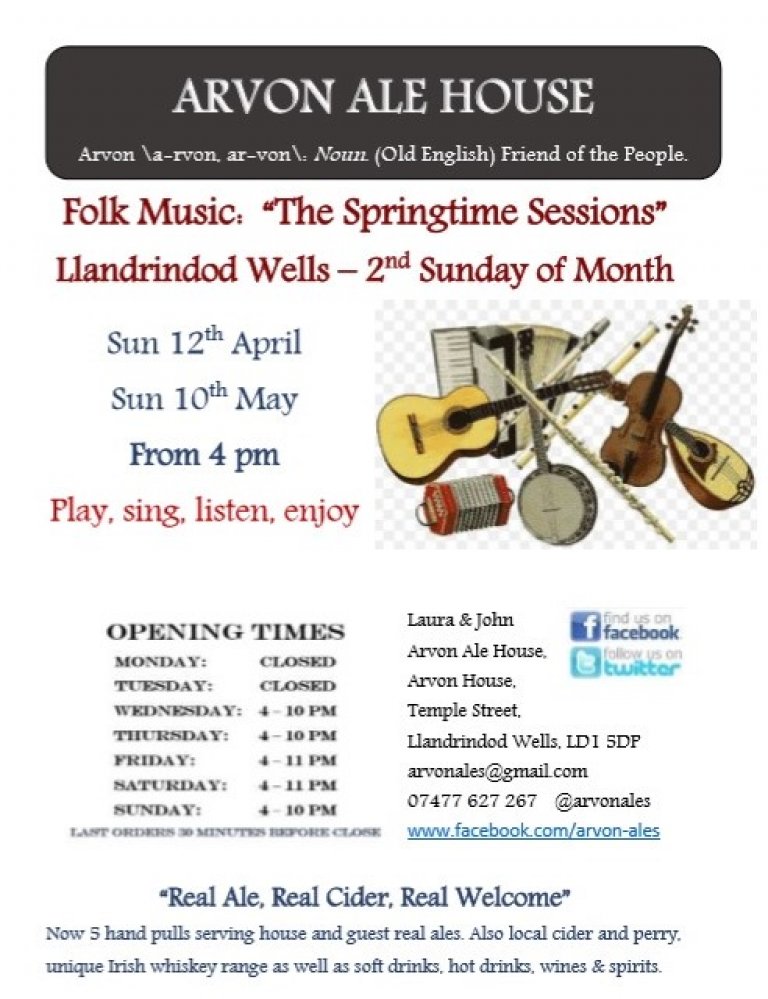 PUBS NEWS.
The CONSERVATIVE CLUB, Llandrindod Wells welcomes card carrying CAMRA members as guests.

WATSON' ALE HOUSE, Knighton.
This is the second micro pub in Mid Wales.
It opened in December 2017. In previous times it was a tea room, antiques shop and butchers.
The 2 room pub has 3 changing real ales, local perry and their own cider on hand pumps.
You can buy food from Knighton Plaice chippy next door to eat with your drinks.
It is near to the clock tower at 24 High Street, Knighton, LD7 1AT.


MIDDLETON ARMS, Llandrindod.
New opening times.
Monday,
Tuesday,
Wednesday,
Thursday,
Friday,
Saturday, .
Sunday, .

RIDGRBOURNE INN, Llandrindod.
Closed in September 2017

The Happy Union, Abbey cwm Hir. ,
Each week they put on a barrel (36 pints) of Real Ale.
When it's gone it's gone but can last until Wednesday.



MAY 2016
Arvon Ale House, Llandrindod Wells.
If you like real ciders and perries then you will find plenty available on draught.
They also have a selection of bottles.



Don't forget they are part of the CAMRA LocAle scheme.

11th MAY 2016.


APRIL 2016.
The Radnor in New Radnor has closed as the building is leaking and Steve Dunn the tenant has walked away.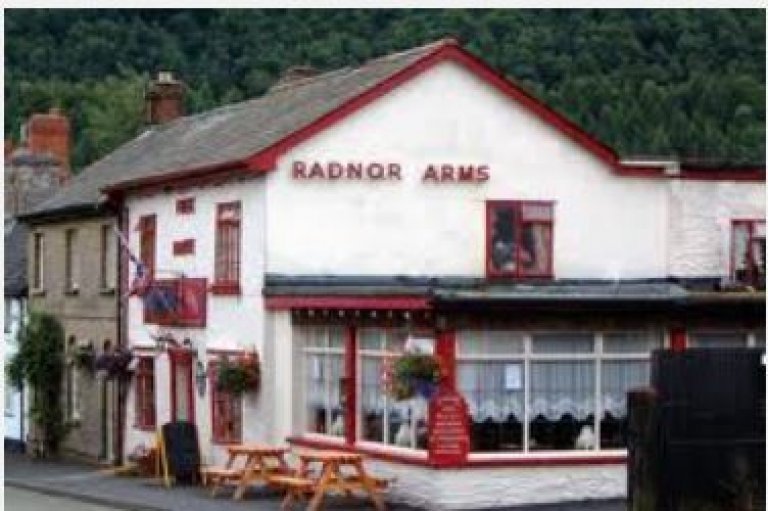 A public meeting on 11th May met the owner who has agreed to get a valuation with a view to a possible buy out by the local community.
UPDATE 12/6/2016.
The owner has had a valuation done.
He refuses to say what it is to the community and will not get into discussions.
Does nothing to dispel the theory that he wants the place to fall down, so he can build houses.


August 2017.
The Red Lion, Knighton.
CLOSED.

24 March 2016.
ARVON ALE HOUSE, Llandrindod was presented with two awards by Radnorshire CAMRA.
2019 Pub Of The Year and 2016 Cider Pub Of the Year.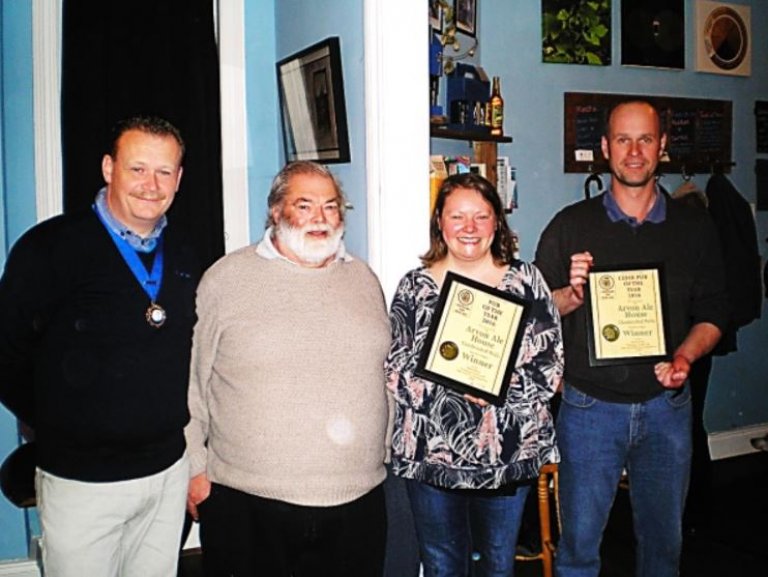 John Williams Deputy Mayor, Chris Charters Chairman Radnorshire CAMRA, Laura & John Arvon Ale House.

April 2017.
HUNDRED HOUSE, BLEDDFA.
Re-opened August 2020 after the lockdown.
No Real Ale yet.
Watch this space. .

Radnorshire CAMRA presented a Special Award certificate to Arvon Ale House in recognition of their First Year as a Real Ale and Cider Pub.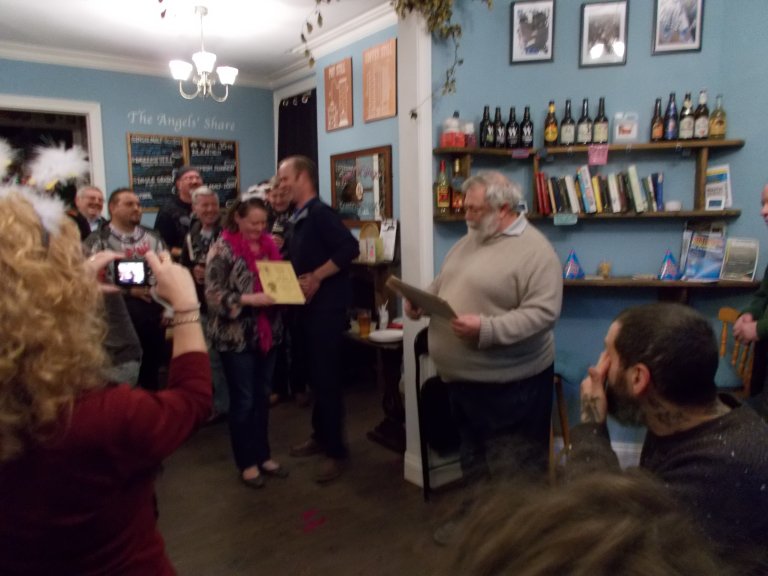 Chris. Charters, chairman of Radnorshire CAMRA awarding the certificate.


FFOREST INN, LLANFIHANGEL NANT MELON (A44)
New tenants in 2014.
There are lots of reports about their food and real ales being good quality.

MAY 2015.
The Greyhound at Llangunllo, the Arvon Ale House in Llandrindod and the Red Lion in Knighton, have received accreditation from Radnorshire CAMRA branch.
This scheme aims to promote pubs that sell locally-brewed real ale and the pubs have to agree to serve at least one locally-brewed real ale at all times.
The Radnorshire CAMRA definition of locally-brewed is a distance of 30 miles from pub to brewery, as the crow flies.
Look out for the pump clips, as below.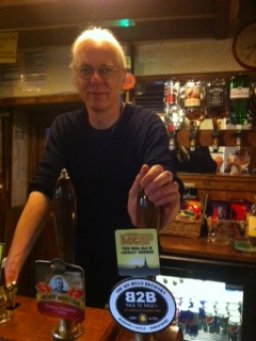 Paul at the Greyhound pub, Llangunllo with his LocAle pump clip.

APRIL 2015.
ARVON ALE HOUSE.Llandrindod Wells. Arvon\ a-rvon, ar-von\: Noun.(old English) Friend of the People.
Laura and John have opened Arvon Ale House, the first micro pub in Powys.
This Llandrindod pub can be found near the Metropol Hotel, opposite Masco tool hire shop.
Their opening day was Wednesday 26th November 2014.
They say "Our aim is to offer a range of good quality, interesting cask ale, cider and perry".
They also serve soft drinks, hot drinks, wine and spirits.
Bottled ale and cider available.
Specialist whiskey range.
Also a range of bottled beers to take away and take away packs of their varied draught beers.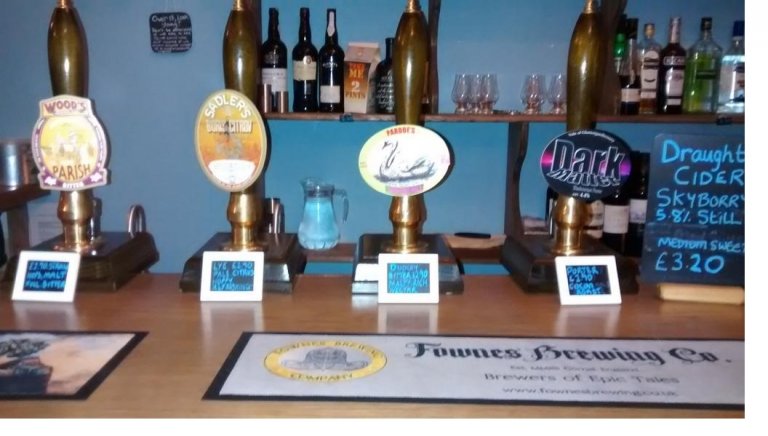 OPENING TIMES for 2016.
Monday: Closed.
Tuesday: Closed.
Wednesday:4 to 10 pm.
Thursday: 4 to 10 pm.
Friday: 4 to 11pm.
Saturday: 4 to 11 pm.
Sunday: 4-00 to 10-00pm pm.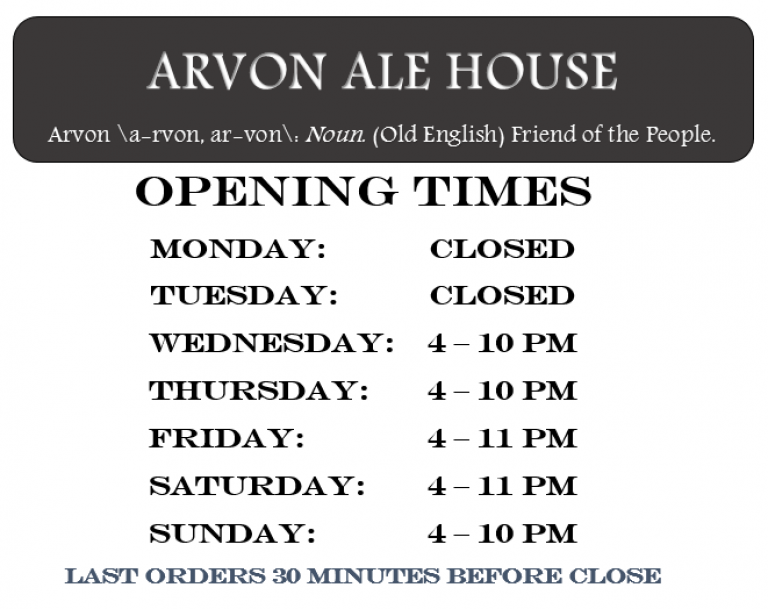 The beer menu changes weekly.
Contact at,

moc.liamg@selanovra


Or go to http://www.perfect pint.co uk to see beers being sold now, those awaiting in the cellar and the latest bottled varieties.


CAMRA members, publicans and anyone else, are welcome to contact us with information that we can pass on to pub users reading this page.
E- MAIL
moc.kooltuo@evadarmacdar